The team at Elasmocan, based on Gran Canaria in the Canary Islands (Spain) have been studying the critically endangered population of European angelsharks (Squatina squatina) for over ten years.  Following on from previous successful projects, they have embarked on a new high-tech study to better understand angelshark behaviour and movement.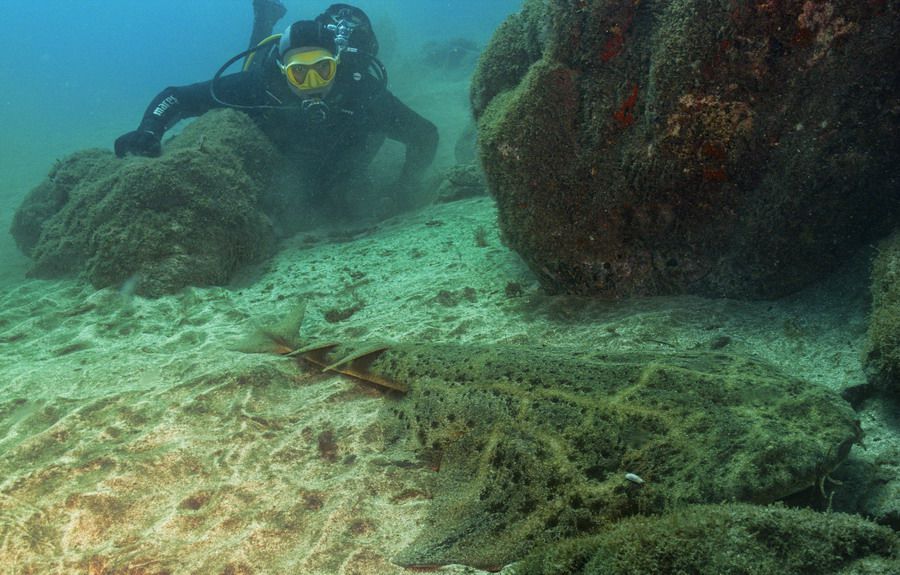 This study complements other ongoing investigations by Elasmocan, and has been developed to give a solid scientific basis for the conservation strategies of the local Special Conservation Areas ('Zonas especial de conservacion' or ZEC ) which make up the Natura 2000 network, and if successful can be applied in other species and areas of interest.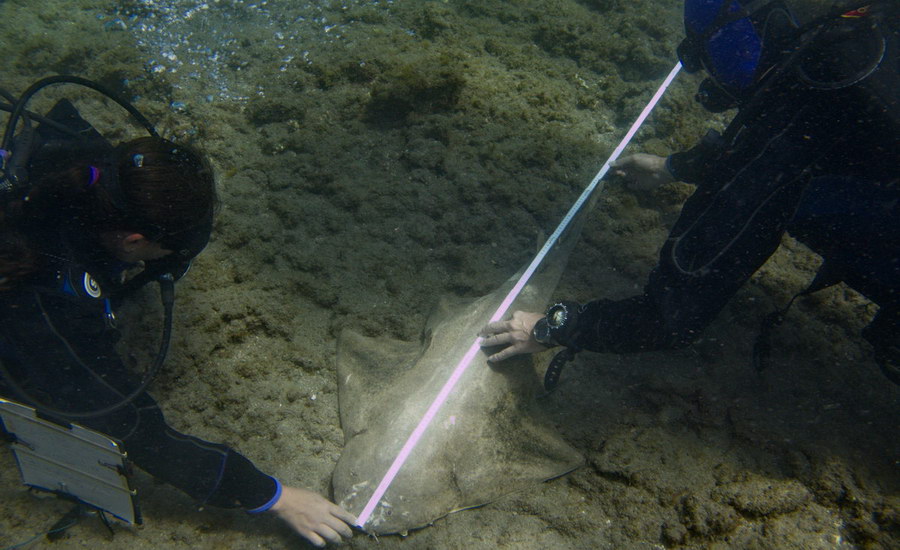 Acoustic Telemetry Network
The research project "Monitoring network for the angelshark Squatina squatina in the ZEC Costa de Sardina del Norte: creating a knowledge base for its conservation", is supported from the Biodiversity Foundation of the Ministry for Ecologic Transition and Demographic Challenge (Spanish Environment Ministry),  and the Loro Parque Fundación.  
The aim is to reveal new knowledge about the behaviour of these sharks. The information is collected via an array of hydrophones, anchored in the bay of Sardina, that record signals from small implanted transmitters on the angelsharks.
The conservation potential of the ZEC at Sardina del Norte for angelsharks will then be determined from their patterns of rest and movements within the area being monitored.Understanding the role of this ZEC in the species' life cycle,   and determining achievable species' conservation objectives involves, among other tasks, monitoring a larger number of individuals over a prolonged period. In addition, it is possible to locate individuals during special searches in case there is information that they left the study area.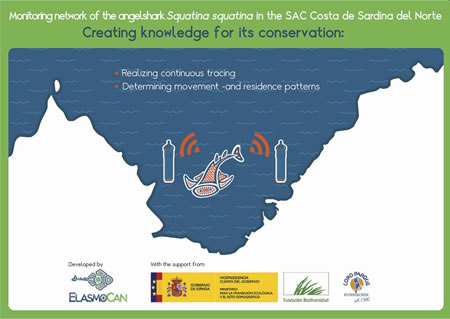 Dr. Filip Osaer, project leader, highlighted the importance of this pioneering initiative, as it can reveal the movements of the individuals with a location and resolution so far not achieved in studies of angelsharks. It is therefore a promising method for the monitoring of angelsharks and other species of elasmobranch, and to evaluate aspects of the forces and pressures to which they are subjected.
In addition the angelsharks can also be detected by hydrophones that use a different signal protocol than the one from the present study. Thus, creating synergies with other projects that use equipment from a different manufacturer, and maximising the possibility to obtain information.
More about Elasmocan
Other research carried out by Elasmocan has included a study of sexual development and maturity, and a study of the DNA data of hundreds of tissue samples, which have then been compared with samples for populations in other parts of the world.
Davy Jones Diving have collaborated on earlier 'citizen science' projects helping collect detailed information on angelshark sightings for several years.  We hope that in the future the study will be replicated in El Cabrón (Arinaga) so that the movement data from different areas can be compared.