Taking your first SCUBA diving course is an important event. With the knowledge you gain you will be able to explore the oceans, see underwater seascapes such as corals, volcanic cliffs or kelp forests, and meet amazing creatures such as cuttlefish, octopus and morays.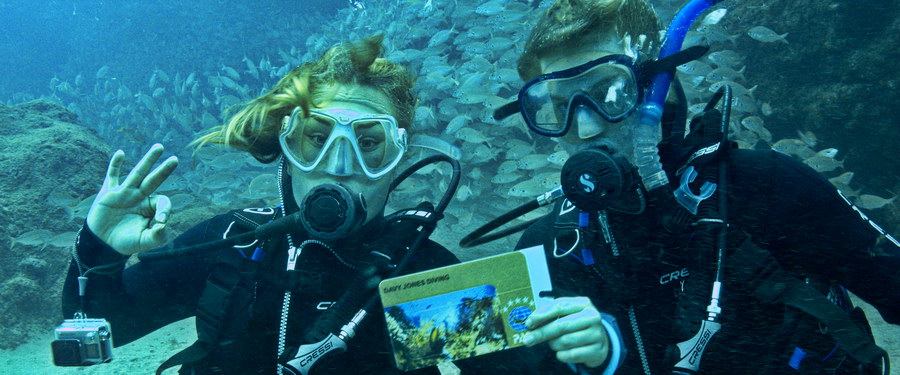 One of the biggest objections to taking your PADI course during a short break has been that it will take too much time out of your holiday. For many years, the four-day format of the PADI Open Water Course, with theory lessons and tests, has left anyone staying for a week with effectively only one or two days to either soak up the sun or explore the island.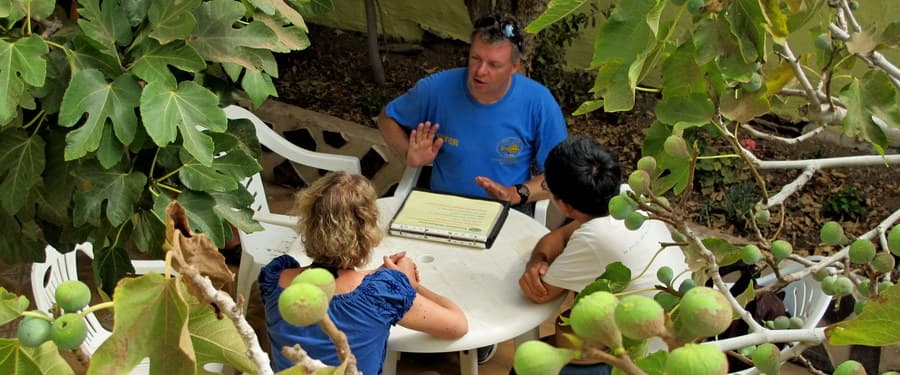 This has now changed in that with the new e-learning materials now available from PADI for their courses, you can study all the theory before you arrive in Gran Canaria, and then you only need three days to complete your course. Davy Jones Diving are one of the leaders in the use of these e-learning materials with over ten years experience of e-courses and many students who have loved their courses.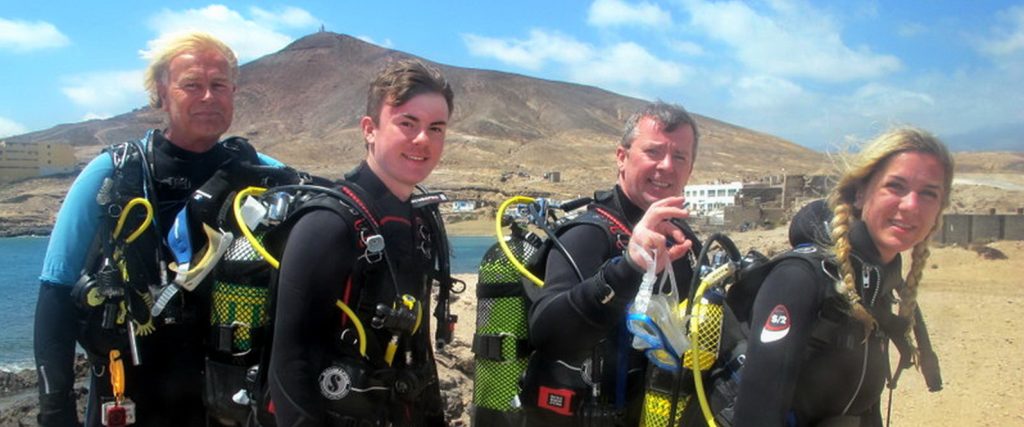 This makes your PADI course with Davy Jones Diving much more enjoyable as can save time during your holiday by doing all the theory in the peace of your own home. When you get to Gran Canaria you spend more time relaxing and exploring, and you do not have to include course books and materials in your baggage on your flights.
You still get the same number of training dives in the sea, and you still visit the same amazing dive sites in Arinaga, Gran Canaria. Despite most of your dives starting in shallow depths you still get to see some incredible sea life on your dives in the El Cabrón Marine Reserve. The Playa del Cabrón dive site has all the colourful 'common' species such as damselfish, wrasse, parrotfish and bream; but also lots of unusual creatures that are normally only found in deeper water such as trumpetfish, razorfish, blennies, wrasse and lizardfish.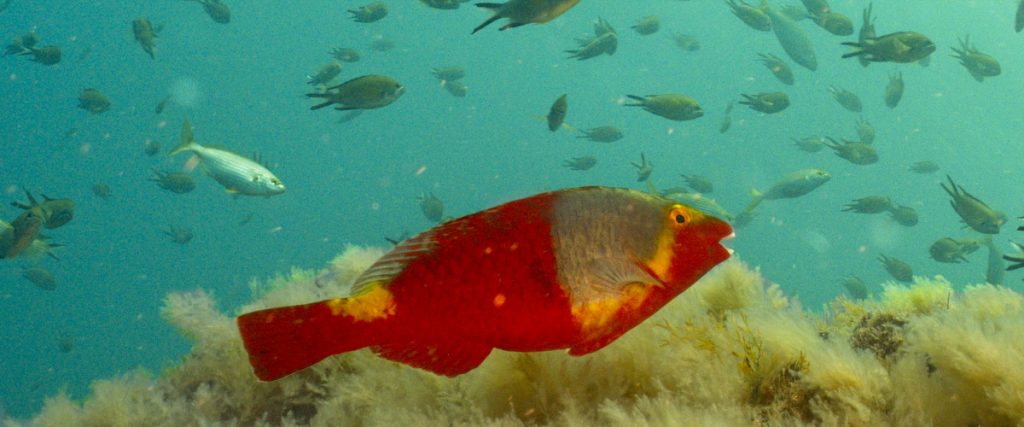 Advantages of taking the PADI e-learning (distance learning) course.
+ The biggest advantage of using the PADI e-learning system is that it can reduce the time taken with an instructor and shorten your PADI Open Water Course from four days to 3 days.
+ Many students have a preference for learning from a screen rather than a book, with greater interactivity, and video clips as part of the support materials.
+You have no heavy manual to carry to or from the dive centre
+ You can complete the theory in your own home, at your own pace.
+ Your certificate of completion is valid at any PADI dive centre to complete the in-water training.
+ The PADI App will give you lifetime access to the course manual anywhere in the world so you can always look up anything you have forgotten.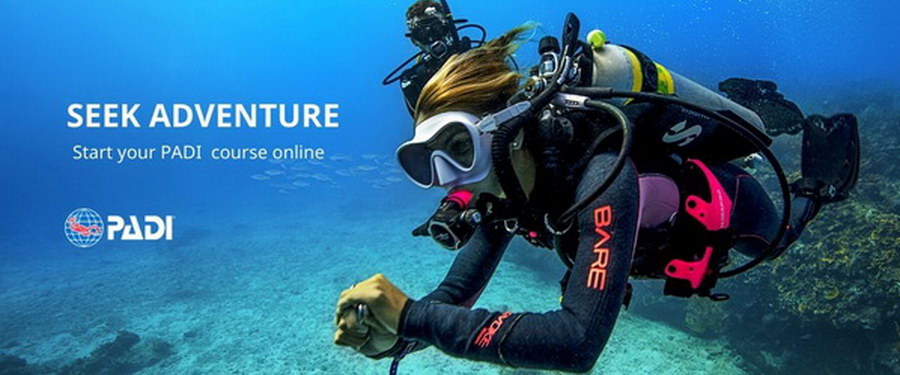 Four steps to take your PADI Course with e-learning
It is easy to plan your PADI Open Water Course with the e-learning system. You just need to co-ordinate the dates for the two parts: the distance learning with the PADI e-learning pack, and the in-water training with your selected PADI Diving Centre. You just need to follow these four steps to plan your e-learning course.
Order the code from your PADI Dive Centre and book your in-water training sessions

Create your training account at PADI.com

Read and watch the learning materials, at home, on the train, on the beach, on your own device.

Complete the practical lessons with your PADI Dive Centre
Step 1 – Plan your course with your chosen PADI Dive Centre and order your digital access code.
You need to use a PADI Dive Centre to complete your e-learning course by doing the in-water skills training and having some fun during your open water lessons. So start by discussing the plan with them. You can purchase your digital access code directly from PADI, but you may find that due to local taxation your code is less expensive if you get it direct from the dive centre. For example in the Canary Islands, the VAT rate is only 7% instead of 20% in much of Europe.
Step 2 – Set up your account in the PADI App at PADI.com
To set up your code, you will need to provide four pieces of information : Your full name; your date of birth, your e-mail address and finally the language you want to study in.
At the time of writing, you can choose from the following languages for your course: English, Spanish, French, Italian, German, Dutch, Korean, Japanese, Chinese Simplified, Chinese Traditional, Norwegian, Swedish, Portuguese, Polish, Danish, Russian, Arabic, Hebrew, Thai, Bahasa Indonesia, Bahasa Melayu.
You then need to follow the instructions you will receive with your digital access code to log into the PADI app and access the materials in the 'My Courses' tab.
Step 3 -Read and watch the learning materials
It will take you between 5 and 10 hours to complete the training materials, so find yourself a place where you can work comfortably without interruptions. Plan your sessions to suit your personal learning style (i.e. two or three long sessions or several shorter sessions with more breaks). This is not a race, and it is best to allow plenty of time so you understand all the concepts better.
Step 4 – Complete the practical lessons with your PADI Dive Centre
This is what you have been waiting for – the practical lessons in the water! You will complete the 'confined water lessons' in either a pool, or shallow open water, and then you complete the four Open Water lessons in the sea, with a progressive increase of depth.
If you take your course in Gran Canaria, then you will probably see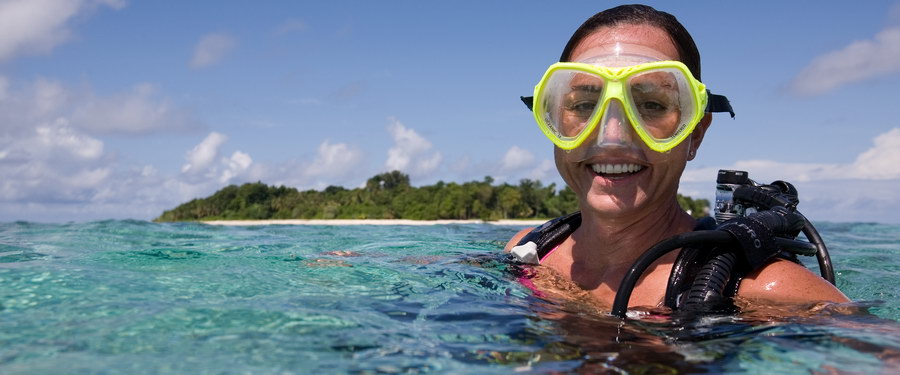 Frequently Asked Questions about the PADI E-Learning.
Q. If I buy my Digital Access Key from one Dive Centre, do I have to complete the in-water training with them, or if I go to another Dive Centre do I have to buy another code?
A. No, your Digital Access code is valid at all PADI Dive centres worldwide. You can even split the in-water training between two (or more!) dive centres, and for example do the confined water training in a pool with one PADI Dive Centre and the in-water training with a different centre.
Q. If I take the PADI Open Water using e-learning is the qualification any different from somebody who has taken the traditional training route, and can I dive as a buddy with them.
A. Yes you can dive with your buddy as there is no difference in the recommendations for limits for people who qualify using the traditional or e-learning routes.
Q. If I take the PADI e-learning theory can I complete my diver training with a different training agency ?
A. No, All the agencies have minor variations in procedures and you should learn the theory and practical at the same agency.
Q. How can I start planning my PADI Open Water Course in Gran Canaria
A. Contact Davy Jones Diving in Gran Canaria and give them as many details as possible about who wants to learn to dive and when, and then they can come up with a personalised plan for your PADI Open Water Course.
Brian Goldthorpe is a BSAC Advanced Instructor and a PADI Master Scuba Diver Trainer with 'Elite' status. He has been diving in the Canary Islands since 2002 where he runs a diving centre in Gran Canaria – Davy Jones Diving